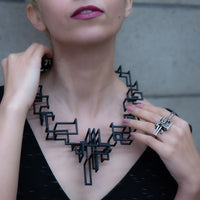 WEARABLE ARCHITECTURE
Blending architectural technology and fashion has a great potential for many interesting wearable applications especially if combined with advanced material and fabrication technology.  We provide comprehensive strategy, apparel design, product development, and production.
> Providing  Fashion Consulting Services
> Custom Design of Wearable Apparel & Accessories
> 3D modeling and Printing Wearable technology
> Integrating Functional Technologies Wearable.
> Eco-friendly Wearable For Sustainable Fashion